NdFeB - Sintered Neodymium Iron Boron
Nuevo Texto: Sintered NdFeB magnets are strong permanent magnets made of an alloy of neodymium, iron and boron. NdFeB magnets are the highest energy product of any material available today, in a wide variety and range of sizes, shapes and grades, this including Grain Boundary Diffusion (GBD) Neo magnets. These magnets can be used in a variety of applications including magnetic separation devices, high performance motors (EV motors and wind turbines), sensor, speakers, magnetic resonance imaging and more.
SmCo magnets are made of a strong permanent magnet alloy of samarium and cobalt. Compared to NdFeB magnets, SmCo magnets are weaker, but they are more suitable for working at higher temperatures. SmCo magnets are very anti-corrosive and generally do not require an electroplated surface treatment.
AlNiCo - Aluminum Nickel Cobalt
AlNiCo magnets are very stable and have good corrosion resistance and a typical hardness of 50 Rockwell C. AlNiCo represents the most versatile magnetic material available. The range of properties can be precisely designed for specific applications through changes in element analysis and heat treatment.
Ceramic, also known as ferrite magnets, is made of a compound of iron oxide and barium/strontium carbonate using ceramic processing technology. Ferrites are, like most other ceramics, hard and brittle. In terms of magnetic properties, ferrites are often classified as "soft" and "hard", which refers to their low or high coercivity of their magnetism, respectively.
Para todas sus necesidades en la industria
Trabajamos continuamente con nuestros clientes para sus requisitos cambiantes y desarrollamos procedimientos de calidad para cumplir con esos requisitos.
Nos esforzamos por lograr la mejor calidad y fiabilidad de su clase en nuestros conjuntos magnéticos utilizando un enfoque de sistema que hace hincapié en la calidad en cada fase del desarrollo del producto. La calidad está integrada y asegurada a través de un estricto Control de Procesos Estadísticos (SPC) y VDA6.3.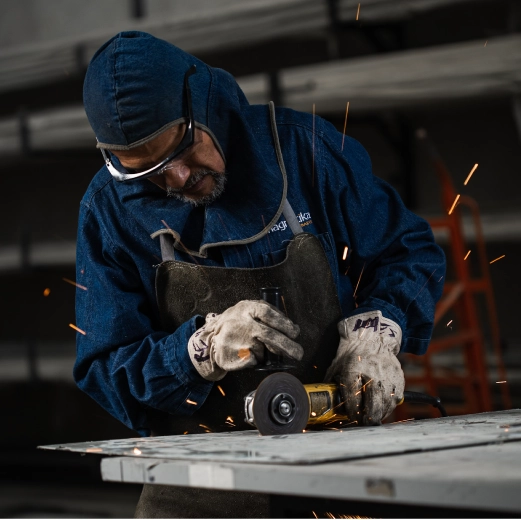 El magnetismo en la industria
Poseemos instalaciones de producción e I+D de clase mundial y expertos en imanes de neodimio de primera clase. Nuestros ingenieros tienen años de experiencia en el desarrollo de soluciones innovadoras de imanes y magnéticas para aplicaciones en muchas industrias. Ayudamos a nuestros clientes a encontrar el imán óptimo y a optimizar el diseño de sus productos.
Las relaciones con los clientes son la faceta más importante de nuestro negocio y nos esforzamos por garantizar una satisfacción del 100 %. Nuestro equipo de servicio al cliente con apoyo internacional está disponible para responder a sus preguntas las 24 horas del día y los 7 días de la semana. Si tiene alguna pregunta o inquietud, no dude en ponerse en contacto con nosotros.
Somos suscriptores de la fabricación magra, así como de la metodología de organización del lugar de trabajo 5S, que nos permite cumplir y superar los objetivos de rendimiento y utilización. Todas las piezas se fabrican bajo control interno, incluso incluyendo las capacidades de construcción de herramientas, mantenimiento de máquinas y recubrimiento N56, 56M, 56H, 56SH54UH, 50EH, 45AH, 38VH Damos la bienvenida en cualquier momento a una revisión de nuestras instalaciones de producción para que pueda ver cómo se fabrican sus piezas, demostrando los procedimientos que tenemos en marcha para garantizar la calidad y el valor que podemos aportar a su producto.
Do you need advice for your project?

We are experts in magnetism!